Our vast experience in the trade has enabled us to select an ideal assortment of products and adapt dynamically to the needs of the customer. Having followed the changing trends in fashion for many years, we able to effectively adapt our designs to the current needs of the market. The diversity of our range of products means that we are able to satisfy all manner of tastes and expectations.
We offer over 300 wedding accessory designs that work wonders with a wedding dress. We offer a wide range of First Communion outfits as well as bags and packaging items. We are the largest producer and able to offer the widest range of products on the Polish market. Our collection is aimed at wedding shops in Poland and across Europe.
With our experience, first-class textiles, professionalism and modernity; our highly qualified workers, and array of modern machinery – we are able to guarantee delivery of the highest quality of products, with fast order turnaround, all supported by our knowledge and experience.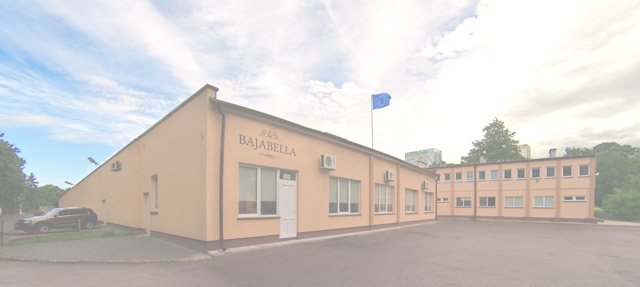 Our brand?
Extras, wedding accessories – they play the most important role and attract attention. For us the most important is the attention – your attention to our collections. That's why we create and work for you!
Fashionable and stylish?
Wedding accessories such as boleros, veils or fur can work wonders in every outfit – especially when designers find it special, and for us everything is.
Modern cuts, stylish forms, unusual and original designs, often hand finished, create collections that compliment even the best bridal brands.
Lace?
Here's where we begin. Can you express the style through lace? Today bridal fashion proves that the traditional Italian, soft or encoders lace can show the elegance, at its best.
What are we doing?
We prove that this is the end of a random selection of clothes. Every bride cares about her style and elegance wishing to look beautiful on their dream wedding. That is why you should consider choosing the most fashionable, stylish and high quality wedding accessories in 2016 season of Bajabella company.
Fashion wedding fair
Each year in June we issue our collections on Europe's largest fashion fair wedding called Interbride International Fashion Fair in Dusseldorf, Germany.

BAJABELLA
ul. Batalionów Chłopskich 75
75-303 Koszalin, Poland
Sales department
Tel.: 48 943 413 736
Mobile.: 48 664 938 938
Fax: 48 943 430 096
info@bajabella.pl
© Copyright Bajabella – all rights reserved